Reno and Carson's best Gold, Silver and Platinum buyer. See one of our Gold Buyers Today! We are the place that not only buys but also sells so we can pay more for your great items. We are not just a middleman in an office sitting at a desk, we are a retailer of high end jewelry, coins, and bullion.
Now with three locations to better serve you.
Northern Nevada Coin is not only the area's leading buyer of rare coins, but also of all forms of gold, silver, and platinum. If you are looking for the best gold buyer in the area come see us. We service Carson City, Reno, Sparks, Lake Tahoe, Minden, Gardnerville, Fallon, and all of northern Nevada. We have professional gold buyers in Reno and Carson City to serve you. We buy gold, silver, platinum, and palladium. You can sell us jewelry, coins, or industrial materials as well as old dental gold. Visit one of our gold buyers today, or if you are outside the Carson City area, please call us at 1-888-836-5527 to discuss how to mail your material here safely.
*Rates for undamaged coins are much higher than scrap gold rates so make sure you show us what you have. If you are looking to sell gold see our gold buyers in Reno, Carson City, or Minden. They will walk you through the gold buying process to make sure you are getting top dollar for your gold whether it be jewelry, coins, bullion, nuggets, or anything else made of gold.
If you have something that is not on the list but is made of gold, silver, or platinum call one of our gold buyers, we will most likely buy it! We are the area's leading gold and silver buyer.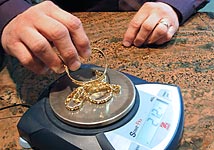 Our gold buyers look for markings (10k, 14k, Sterling, .925, etc.)
Our gold buyers weigh the items.
Our gold buyers test for karat or purity, to get the actual metal content
Our gold buyers use electronic gold testers and/or testing acids**
Sometimes an item must be filed*** to obtain an accurate test reading.
**If an acid test is required discoloration may occur.
***Filing may change the aesthetics of your item. If you do not wish for us to file an item, please do not send it to us through the mail.
What we pay…
Our gold buyers pay 80%* of the contained value of scrap gold. Silver and platinum will be between 60-80% depending on what form it is in and what kind of quantity you may have. If you have lots that total more than 10 ounces of pure gold, please discuss your rate with us. * With many vintage items the the gold content may vary slightly depending on manufacture, and repairs. Our goal is to be as fair as possible with you while still making a profit. We are proud of our stellar reputation and look forward to working with you.
If you've seen ads running on T.V., please do not be deceived. You might hear things like, 25% more cash or even super high percentages like 98%, but if you break these ads down you will see why we are probably your best bet.
The 25% more ploy is where they offer 25% over their standard buy. Ask yourself what is 25% more of 30%? Really only 37.5%… not that much.
The 98% ploy is to actually pay 98%, but charge hidden fees in order to make profit. If you had $500 worth of gold 98% would be $490. But if you have to pay an assay fee of $40, a melt fee of $250, and a shipping fee of $25, the $490 minus the $265 in fees nets you a mere $225. (Which is really only 45%). Compare that to our $400 cash-in-hand price! Of course, if you have a much larger lot these fees become negligible, but even there we can broker those lots to help you achieve the best price.
Reminder: Our rates for undamaged coins are much higher than scrap rates, so make sure you call us with what you have.
Frequently asked Questions
Do you buy gold plated material?
No. We do not buy gold plated material. Things marked rolled gold, warranted, guaranteed 25 years, 1/20th or 1/10th 14K, he, G.E., or plated are not of interest to us.
Will all the gold I sell you be melted?
We will try to re-sell some of the more exceptional items. However, in this economy, not as many people are buying gold jewelry as are selling it. We realize that sentimental value can be important to you, so we do wish to give others the chance to start their own sentiments with some of these pieces. But, our gold buyers do not determine which pieces will be resold at the time of purchase.
Why are silver and platinum rates lower than when we buy gold?
Platinum melts at much higher temperatures and refining costs are much higher. The typical platinum lot takes six weeks to be completed at the refinery. Silver on the other hand is much bulkier than gold for the same amount of value. $10,000 in gold is only a few ounces, $10,000 in silver is many pounds. Also the silver refining process is about 30 days at the refinery.
What about stones set in my jewelry?
We will evaluate and pay for exceptional stones in your jewelry. Diamonds, emeralds, and rubies are the big three but a few others have resale value as well. Smaller diamonds are precious but super valuable, but rest assured we will pay a fair value for what you have.
Wouldn't I do better if I sold directly to a refiner rather than your gold buyer?
Lot charges, melting fees, assay fees, treatment charges, and other fees often apply. If you have a small amount of gold, (under 10 ounces), most of the value may be eaten up in fees. If you have larger amounts, you can use our experience and contacts to help you get the best deal. We broker larger deals and usually net you more than you could get if you did it on your own. We have worked with a number of refiners and know the ins and outs of that side of the business. Use our knowledge to help your bottom line.
To summarize…
Our gold buyers pay at least 80% of the melt value for gold
If you have 10 or more ounces of pure gold, please call one of our gold buyers to discuss your rate.
Rates for undamaged coins are much higher than scrap rates so make sure you show one of our gold buyers what you have